Acyl
Original character

First appearance
Created by
Voiced by
Nick Nevern
Information

Name

Gender

Nature

Element

Species

Acyl

Male

Mortal

Neutral

Striped Hyena

Parents

Siblings

Mate(s)

Offspring

Unknown

Unknown

Unknown

None

Born Group

Born Rank

Unknown

Unknown

Group

Rank

Akosua's Cackle

Guard
Acyl is the only "different" hyena in Akosua's Cackle, being a striped one.
General Information
Edit
Real name: Acyl.
Meaning of name:
Gender: Male.
Weight:
Height:
Family: Unknown.
Species: Striped Hyena.
Affiliation: Akosua's Cackle.
Rank: Guard.
First appearance:
Last appearance:
Status: Deceased.
Age:
Personality Edit
He is quite kind.
Physical apeparance Edit
Tall, muscular. Dust golden fur with a lighter underbelly. Brown mohawk. Lime green eyes with circle pupils.
Dark Shadows
Edit
Akosua accepted him after see him fighting alone against a leopard, something that some clan members would do firstly hesitating, and more after see the leopard flee and see standing in front of her Acyl in a triumph standing position.
He has created a big relationship with Assiba.
There's no images of him in the films because he isn't an official character from Disney.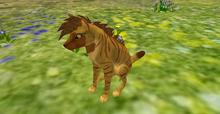 He has a special scent of.
He has the voice of Nick Nevern performing as Mikhail in Far Cry 3.
If we could choose for him a song it would be .
"Julia, listen."
Ad blocker interference detected!
Wikia is a free-to-use site that makes money from advertising. We have a modified experience for viewers using ad blockers

Wikia is not accessible if you've made further modifications. Remove the custom ad blocker rule(s) and the page will load as expected.