Julia
Original character
FH User

Deviantart

Rachu

??

Voiced by
??
Information

Name

Meaning

Julia

Wavy hair, downy-haired

Gender

Nature

Element

Species

Female

Demon

Air

Spotted hyena

Dates

Weight

Height

52 kg (114.64 lb).

??

Afiliation

Born Group

Born Rank

Akosua's Cackle

Lowest female, runt

Group

Rank

Hyaenidae Clan

Matriarch

Genealogy

Parents

Siblings

Mate(s)

Offspring

?? and Assiba

Shaira

Tyron

Tohamu, Hayley, Kayley, Khadidja. Endesha, Vincent.

Status
First appearance
Prologue
Last appaerance
??
Status
Alive
Age
Vol. 1
0 years
Julia is a spotted hyena. She is Tyron's mate, with whom she had two litters. Their cubs were Tohamu, Hayley, Kayley and Khadidja in a first litter and had Vincent and Endesha in a second one.
She was the runt of her litter and clan when she was born but when she was a young adult she became the matriarch of her own clan.
Personality Edit
She is a patient, protective and caring female. Sometimes can seem a bit bipolar and moody.
Physical appearance Edit
Her weird colorations appears in her because of her demon nature. Garnet fur with a lighter underbelly and black markings. Curly black hair. Blue eyes with normal pupils.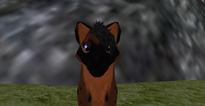 Dark Shadows
Edit
The comic starts with a short prologue and after that, the story starts telling Julia' story since she was born, connecting her directly with Shenzi, Banzai, Ed and telling why she is different of the rest of hyenas.
She always was the runt due to be the last cub to be born in the clan and that she had that unnatural reddish pelt.
In the First Big War against Shenzi's clan, she lost her mate Tyron, thing that made Julia be quite distant and be blue for a while. Then, she focused on keep taking care of her clan with some help of her closest members.
There's no images of her in the films because she isn't an official character from Disney.
She has a special scent of.
She has the voice of ?? performing as ?? in ??.
If we could choose for her a song it would be ?? by ??.
"If someone wants to hurt you, they'll firstly need to kill me."
"No! That's false! You know I have always stayed by your side!"
"Don't come closer or you will regret it!"