Sarafina
The Lion King character

First appearance
The Lion King
FH User

Deviantart

Voiced by
Zoe Leader
Information
Name

Gender

Nature

Element

Species

Sarafina

Female

Unknown

Unknown

Lion

Parents

Siblings

Mate(s)

Offspring

Unknown

Unknown

Unknown

Nala

Born Group

Born Rank

Unknown

Unknown

Group

Rank

Pridelanders

Unknown
Sarafina is Nala's mother, Simba's mother-in-law and Kiara, Kion and Kopa's maternal grandmother. Little of her past is known. However, as Nala is stated to be betrothed to Simba as part of a long-standing tradition, she would have presumably agreed to the betrothal at some point.
Her name has no meaning in Swahili and is not mentioned in the film, only appearing in the credits.
Personality Edit
Physical appearance Edit
She is a pale-furred lioness with a slender build, much like her daughter as an adult.
Dark Shadows
Edit
In the films
Edit
The Lion King Edit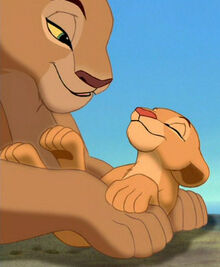 Sarafina plays a minor role, appearing a few times throughout the film. She only has one line of dialogue: "Hmmm, what do you think, Sarabi?" Her first appearance is in Nala's introduction, when she is bathing her cub; she is also seen as the lionesses mourn Mufasa and Simba, and later when they fight the hyenas when Scar reveals that he was Mufasa's killer and framed Simba who is still alive. According to the song "Chow Down" from the musical, Sarafina ate Banzai's father.
Sarafina makes an appearance in the book Nala's Dare, which is part of The Lion King: Six New Adventures series. In the book, she along with a lion named Ni, rescue Nala and some other cubs from hyenas. She later introduces the lion, which had been driven from his pride, to the rest of the Pride Land lions.
She has a special scent of.
If we could choose for her a song it would be .
"Hmmm, what do you think, Sarabi?"
Ad blocker interference detected!
Wikia is a free-to-use site that makes money from advertising. We have a modified experience for viewers using ad blockers

Wikia is not accessible if you've made further modifications. Remove the custom ad blocker rule(s) and the page will load as expected.