Titus
Original character

First appearance
Created by
Voiced by
Information
Name

Gender

Nature

Element

Species

Titus

Male

Unknown

Unknown

Spotted Hyena

Parents

Siblings

Mate(s)

Offspring

Unknown

Unknown

Unknown

Unknown

Born Group

Born Rank

Unknown

Unknown

Group

Rank

Akosua's Cackle

Lieutenant
Personality Edit
He is as intelligent as a good fighter.
Physical appearance Edit
He has bloody red eyes. He has a big scar in his left side of the neck that he got when he was only a cub.
Dark Shadows
Edit
Trained and grown up by Tamoka, he has learnt in first person how hard but also fragile is life. Tamoka taught him hardly in fight skills, after all he was the best fighter of the clan in that moments. He was quite well known by his cruel methods, usually more than one hyena dieing in the proccess, but Titus was not one of that hyenas. He learnt fast and soon became a strong warrior.
He is now the lieutenant, the right hand of Shenzi and second in command. Some say that he has a romantic adventure with their leader.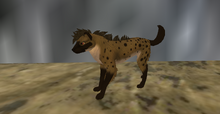 There's no images of him in the films because he isn't an official character from Disney.
He has a special scent of.
If we could choose for him a song it would be .
"Shenzi, leader, we need another strategy..."
Ad blocker interference detected!
Wikia is a free-to-use site that makes money from advertising. We have a modified experience for viewers using ad blockers

Wikia is not accessible if you've made further modifications. Remove the custom ad blocker rule(s) and the page will load as expected.