Zira
The Lion King character
FH User

Deviantart

??

??

Voiced by
Suzanne Pleshette
Information

Name

Meaning

Zira

Hate

Gender

Nature

Element

Species

Female

Mortal

Neutral

Lion

Dates

Weight

Height

??

??

Afiliation

Born Group

Born Rank

??

??

Group

Rank

Outsiders

Queen

Genealogy

Parents

Siblings

Mate(s)

Offspring

Unknown

Unknown

Scar, Unknown

Nuka. Vitani, Kovu.

Status
First appearance
??
Last appaerance
??
Status
??
Age
Zira was the mother of Kovu, Nuka and Vitani.
Zira means "hate" in Swahili.
General Information
Edit
Name:
Personality Edit
Physical appearance Edit
Dark Shadows
Edit
She doesn't have an important role in the story, after all hyenas were now enemies for her and her pride too after betray Scar.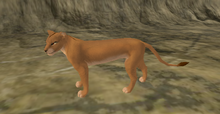 In the films
Edit
The Lion King II: Simba's Pride Edit
She was a faithful follower of Scar who is devastated over his demise and craves vengeance on Simba for exiling her and her fellow Outsiders. A powerful contributing factor to her rage with Simba is that her son Kovu was selected by Scar as his heir; th
erefore, Zira believes that Kovu is entitled to the throne more than Simba and plots his demise. However, she takes advantage of Kovu's friendship with Simba's daughter Kiara and devises a plan in which the friendship can prove helpful to her in doing away with the king of Pride Rock. She later appears while carrying out the final stages of this plan, but fails and her neglected eldest son Nuka is crushed to death by falling logs during the Outsiders' attempt at murdering Simba. She blames Kovu for the incident and scratches him in the face giving him a scar like Scar's.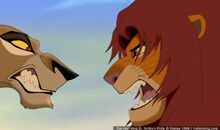 Toward the end of the film, the Pridelanders and the Outsiders confront one another yet again for a bloodthirsty, malicious battle between both sides, but Kiara's actions as a mediator manage to turn the exiled Outsiders against their former brutal ways and join the more peaceful lifestyle of the Pridelanders. Abandoned and enraged, Zira tries to attack Simba, but is intercepted by Kiara. Zira fights Kiara until she is hanging on a cliff; she refuses Kiara's help and falls into the rapid river apparently killing her (in a scene where she was originally intended to commit suicide willingly by falling into the same canyon, but this was edited as it was viewed as too brutal). Despite Zira's death, her original dream for Kovu to become king is most likely to come true, since Kovu makes no intentions of killing Simba and instead help him while entering a relationship with Kiara in addition his actions proving both prides of his character and worth, and because of that, Simba will allow Kovu to become his successor.
She and the Outlanders were banished from the Pridelands by Simba because she killed his son, Kion.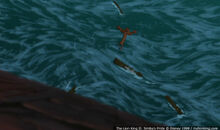 She has a special scent of.
She has the voice of Suzanne Pleshette performing as Zira in The Lion King II.
If we could choose for her a song it would be .